Which Drinking Water Filtration or Purification Will Give Me Quality Water ?
There are so many home water filters and purifiers on the market these days, but not all filters will remove Giardia. So which drinking water filtration or purification will guarantee quality water ?
The Doulton 4 stage ceramic purification systems are a safe option as they protect against Giardia. Many other types of filters that work by micro-straining will also remove Giardia. As Giardia is larger than 1 micron it is imperative that you look for a water filter that has a pore size of 1 micron or less. These come in two types — "absolute 1 micron" filters and "nominal 1 micron" filters. The absolute 1 micron filter is a more viable option for Giardia removal as some nominal 1 micron filters will still allow 20% or 30% of 1 micron particles to pass through. Another vital step to take in finding a suitable filter is to check that the water filtration system is tested and certified by NSF Standard 53 for cyst removal.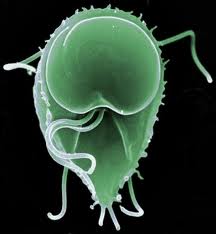 If your filter contains a cartridge, it is crucial for continued safe drinking water that you replace the water filter cartridge on a regular basis according the instructions that come with your filtration system. It is a simple process to obtain replacement filter cartridges for those models that require them.
You and your family deserve the peace of mind that comes with knowing your drinking water supply is safe, healthy, and clean and of the highest possible quality. A filtration system will make all the difference in the world eliminating hazardous contaminants like Guardia.