About Us...

BelKraft originally started serving Ottawa and the Eastern Ontario region of Canada in 1965. Since then, we have grown internationally and have established over half a million satisfied customers.
With belkraft.com that figure is growing continually and via the internet, BelKraft's fine quality products are now available to anyone with Internet access. BelKraft's mission is to provide you with the tools you need to improve your health and the health of your family by purifying your air and water, juicing daily, cooking the healthy, greaseless way and providing you with the highest quality Canadian and US made products at the lowest possible price. As a factory direct distributor with no overhead or advertising costs, belkraft.com has the products you need at the price you can afford.
In brief, you should know the following about us: Our company was established in 1965 and has been responsible for providing outstanding health related products ever since. Our specialties are water and air purification.
Our regular clients particularly value our personalized service.

We are located at :
1554 Carling Ave. Suite 50
Ottawa Ontario K1Z-7M4
Call toll free 1-877-523-7800 (or contact us here)
Local Ottawa call 613-523-7800
(We can proudly say that we have had this same phone number since 1972)
The BelKraft Health Division

BelKraft is an established Canadian leader in providing health and wellness equipment of exceptional quality and value, excellent ongoing personalized customer service, education and the provision of the world's best products and wellness equipment. Also outstanding lifetime warranties and all at wholesale prices to our thousands of satisfied customers.

Mission Statement
To protect the long term health and vitality of our customers and their families through education and the provision of the world's best wellness equipment, that produces pure, exhilarating, pollution free air, crystal clear pure water and natural food bursting with flavour and full of natural vitamins and minerals.
Essential ingredients for a vibrant life.
To show our customers how they can look and feel better, live longer, healthier lives and save time and money every day with equipment that quickly pays for itself and continues to produce savings every day for a lifetime.

To continue to support our customers, many who have been with us for over 40 years. Their equipment, used every day, still looks new and our customers love them.

"Quality always pays."
Ron Geyer started with BelKraft in 1975 and has built his success on the principle of giving people what they want, good service and top quality products at a price they can afford.

With belkraft.com and Ron Geyer, your orders will be filled easily - effortlessly, and Ron's been well-known to 'go that extra mile' for all of his customers. (Nobody lasts over 30 years with one company without looking after their customers).



Call or e-mail ron@belkraft.com

As a Natural Health Consultant, Ron will be happy to answer any questions on health and nutrition.
Ron Geyer has been Bonded with BelKraft since February 1977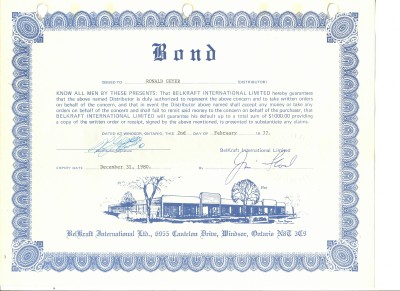 The CanAm Wellness Group of Companies: