Juice Extractors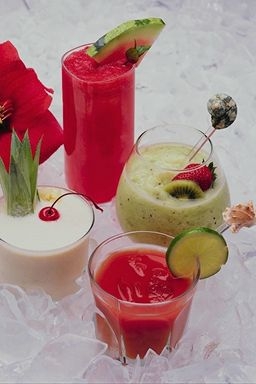 Juicing helps you make healthier eating Choices. Research studies have repeatedly shown
a direct relationship between diet and health. Doctors and healthcare practitioners alike are
discussing how to decrease the risk of heart disease and certain cancers through proper diet.
Current recommendations are to increase the intake of fiber and complex carbohydrates, and decrease the intake of fat, cholesterol, sugar and sodium.
With the PL2000 Juice Extractor, you have the opportunity to make changes in your diet and
increase your intake of fiber and complex carbohydrates. The PL2000 juicer is designed to make the preparation of fruit and vegetables juices easy and convenient.
Enjoy fresh fruits and vegetables in their prime and quickly prepare them to fit your family's needs and dietary plans.
PL 2000 Juice Extractor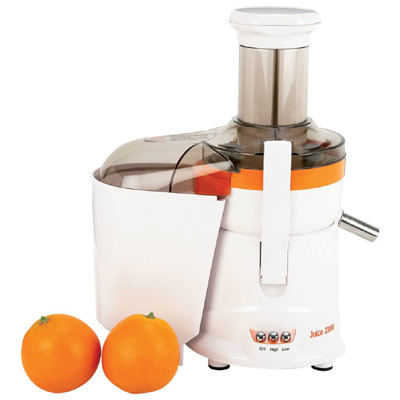 Features:
9,000rpm low; 11,000rpm high
120V
centrifugal juicer
stainless steel basket
stainless steel blade and spout
safety locking system
large capacity chute.
---
STAINLESS STEEL JUICER
(Picture currently not available)
Accessories Include:
- Strainer Blade
- Food Pusher
- Plastic Dome
- Pulp"Dispenser"
- Dispenser Tray
Stainless Steel Juicer - The ultimate "Health machine." When you own Juice Master 2000 you enjoy all these advantages: Simple to use, easy to clean. Highly reliable powerful 6300 RPM air cooled motor with patented speed control and turbo boost. Automatic pulp ejection, advanced design & superior quality.
The Ultimate Health Machine!
Features
• Stainless steel
• Automatic pulp ejection system
• Turbo switch to help clear out the basket
• Easy to use and easy to clean (throw away plastic bag can be placed in pulp container)
• Strong basket with stainless steel cutting blades
• Unique and highly reliable, air cooled universal motor for continuous use
• Electronically governed speed control to extract maximum amount of juice
• UL, CSA and CE approved for domestic and commercial use
• You'll look and feel better
• You'll develop a stronger immune system
• You'll enjoy increased health and vitality
• You'll help slow down the aging process
• You'll lose and control weight naturally!
Superior Nutrition - No store bought processed juice can match the pure nutritional power and taste of freshly made Juice Master juice.
STAINLESS STEEL JUICER:

---
PLATINUM JUICE EXTRACTOR
(Picture not available)
The ultimate juice extractor. When you own the BelKraft Platinum Juice Extractor you enjoy all these advantages: Simple to use- easy-to-clean. Powerful 6200 RPM motor. SUS304 Stainless Steel. Automatic pulp ejection. UL/cUL approved for home and commercial use. Quiet operation. Advanced design & superior quality.
From start to finish, your freshly prepared juice will contact only Surgical Stainless Steel.
Platinum Juicer Parts
1 - Plunger
2 - Cover
3 - Clutch Nut
4 - Blade
5 - Strainer Basket
6 - Bowl
7 - Powerful 1/3 HP Induction Hybrid Motor
8 - Pulp Basket
9 - Coupling
PLATINUM JUICE EXTRACTOR:
We Accept