Fill out the form below and we will send you a filter change reminder at the interval you specify.
Also you can order your replacement cartridge on-line below
| | |
| --- | --- |
| Send Reminder every: | months. |
| To my email address: | |
| Notes to include in reminder message: | |
| | |
| | |
Emails will be sent from service@belkraft.com
Be sure to add this email address to your allowed senders list so it is not blocked.
Universal Full Spectrum cartridge
Lasts 18 months on average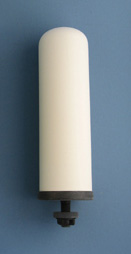 Sale price $188.00
Sometimes it's obvious when a cartridge needs to be cleaned, but if there is no rust and sediment in your water and your cartridge still looks clean after a year it does not mean it has not absorbed all the chemicals and chlorine and still should be replaced.