Do You Suffer from Gomphotic Infections????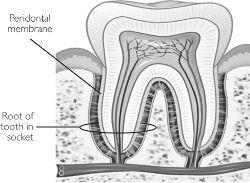 Gomphotic infections are gum disease infections…teeth fit into socket-joints in the jaw bones called gomphoses and these are the simplest of joint systems and mouth bacteria cause infections called gingivitis or bleeding gums. In fact these simplest of joint infections have scourged mankind since mankind became identifiable as mankind.
Just as our DNA can be traced back to our early human roots, so our current mouth organisms can be traced all the way back to those early microbiota that plagued our ancestors.
Here is how it that happens. Babies are born without mouth bacteria, which is good for breast feeding mothers. Babies get their parents bacteria, fungi, viruses and parasites mostly by indirect contact…Someone kisses the baby's hand and then the baby puts that same hand in to its mouth…or Mother tastes the baby food for temperature and then passes the spoonful of food to her baby…so in a sense we inherit most of our mouth bacteria from our family, and it has been that way since time began and will be so forever more. However we can also get mouth infections by direct mouth to mouth contact..we call it a temporary form of spit -insanity called kissing passionately.( Why do you think dentists have such a high suicide rate.)
These mouth organisms are dangerous to your health because when your gums are bleeding it means these bugs are breeding and entering your bloodstream. This is not good for the river of life. This is also not good for your breath. Most bad breath is caused by mouth infections and some by throat and sinus infections or some sys temi c infections.
Currently there are about 12 sys temi c areas of research looking into the oral health and total health connection …atherosclerosis , strokes, heart disease diabetes, kidney disease, preterm babies, underweight fullterm babies, Alzheimer's, osteoporosis, aspiration pneumonia ,stomach illnesses and oral cancer and possibly other cancers in particular breast cancer.( this new breast cancer theory is that oral organisms can enter the ducts of the breast nipples and cause irritations that lead to some types of breast cancer.)
Treatment for these gomphotic infections has slowly evolved over the generations of dental history from ayurvedic oil rinses to salt water rinses to chemical rinses to brushing and flossing on to scraping and scaling tartar or calculus to surgical-scalpel resection or surgical gum amputation surgery, to topical and sys temi c antibiotics and now laser light energy to sterilize the gum pockets and to provide light energy to regenerate some of the lost or damaged bone and gum tissue
To see and hear more Google "lasergumcentre.com"
Or Google" Whoopi talks about gum disease"
There are lots of gum bugs out there..be careful who you kiss!!
We have all heard about laser eye surgery …well now laser gum surgery is in Ottawa The dental team at "dolphindentistry.com" reports that a NEW LASER TREATMENT STOPS AND REVERSES GUM DISEASE! To read about it Google "lanap.com" to read about an exciting new method developed by Millennium Corporation of California to reverse gum disease without scalpels, pain, sutures, or recession (long teeth).
The Periolase laser and the laser assisted new attachment protocol is changing the HISTORICALLY UNPLEASANT experience of gum surgery. In fact the Periolase has created a new paradigm in saving your own teeth and avoiding surgical pain, tooth loss and the expense of implants and crowns or bridges PAINFUL GUM SURGERY and subsequent implant surgery and expense.
Remember researchers now think healthy gums may help promote and maintain a healthy heart!
Dr. Paul Greenacre
Office 613 260 2800 (insurance covers about 30 %)
Email us at info@dolphindentistry.com and ask for the e newsletter
Don't wait till it's too late. You don't change the oil in your car when you start hearing grinding sounds.