Everything You've Ever Wanted to Know About Waterless Cooking
316Ti Surgical Stainless Construction
The 316Ti Surgical Stainless Steel contains about 19% chromium and 9% nickel in addition to the iron. The popularity of 316Ti surgical stainless steel is due to its gleaming appearance which lasts for the life of a product with just an occasional cleaning.
Its excellent corrosion resistance is due to an invisible, passive oxide film that forms on the metal's surface in air.
Hospitals use surgical stainless steel because it can be kept clean and sterile.

Advantages of 316Ti Surgical Stainless Steel
Mineral and Vitamin Retention
Corrosion Resistance
Temperature Resistance
Flavor Protection
Economy
Durability
Cleanability
Design Flexibility
There is Only a 2% Average Vitamin and Mineral Loss with The Steam Control System's™ Method of Cooking. That means a 98% Nutrient Retention with our 316T Surgical Stainless Steel.
Compare these numbers to a 58% Retention when boiling in water using regular cookware. By using the normal way of cooking, in regular cookware, you lose 42% of the vitamins and minerals you and your family depend on for health.

The chart below is based on the average percentage of mineral losses for all vegetables from the "University of Wisconsin, Journal of Home Economics, Vol. 17, No.5" *Ref.: Paul R. McCann, Food Specialist, Author of the book "The Science of Nutrition"
| | | | |
| --- | --- | --- | --- |
| Mineral | Regular Cooking | Pressure Cooking | Waterless Cooking |
Mineral Regular Cooking Pressure Cooking Waterless Cooking
Iron
48.9%
17.4%
2%
Calcium
31.0%
12.0%
2%
Phosphorus
46.4%
19.4%
2%
Magnesium
44.7%
21.1%
2%
Click HERE for list of which food contain what mierals and the health effect.

Research on the Aging
Research on the aging process, like that coming out the US Department of Agriculture Human Nutrition Research Center on Aging at Tufts University, suggests that maximizing the nutritional quality of your diet may slow down or prevent age-related problems that many people think of as inevitable. The studies recommend cooking foods for a short time and in as little water as possible. As stated previously, cooking with the waterless method using our 5 or 7 ply cookware retains 98% of the nutrients. Boiling food the old fashioned way destroys an average of 42% of the nutrients.

Cooking with Waterless Cookware
Cooking with waterless cookware is done under a vacuum with economical low heat. Just as the insulation in your house does its job, this cookware saves a lot of money over the years on utility bills. The built-in steam control valve whistles like a tea kettle to let you know when to turn the heat off.

Layering
The layers allow even heat flow, and durability. The aluminum conducts heat well in the inner layers, but is not desirable on the outside because it corrodes and comes off in the food. Surgical Stainless steel protects the food and the cookware itself. Stainless steel also contains iron which makes it good for magnetic induction stoves.


The 7-ply Layer Construction

Layer-1 316Ti Surgical Stainless Steel
Layer-2 Pure Aluminum
Layer-3 Aluminum Alloy
Layer-4 Pure Aluminum
Layer-5 304 Surgical Stainless Steel
Layer-6 Ferritic Steel
Layer-7 304 Surgical Stainless Steel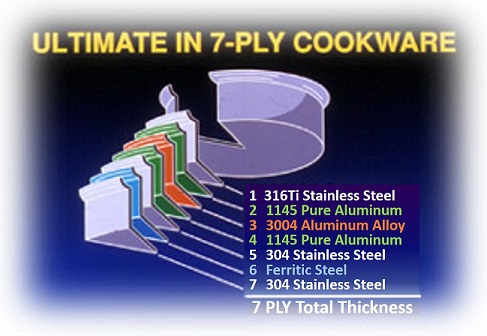 Warp-Resistant Bottoms The special design of the bottom of each our pots provides extra strength and rigidity that will always prevent warping. The pans stay flat and hug the burner for maximum heating efficiency during the entire cooking process. The handles are oven safe up to 350°C. There is no need to ever use it under the broiler.

But First...
The first thing to do before using your new cookware is to wash each piece thoroughly in hot water and detergent, rinse with hot water and dry completely with a towel. This will remove manufacturing oils. After each use, good dishwashing rules are all that are necessary for every day care of your cookware. A blue or golden brown discoloration may appear if you should happen to overheat a unit. You can remove this by using any good stainless steel cleanser.

Remember:
NEVER put cold water into a hot utensil.
Heat utensils gradually, NEVER use high heat.
Should a lid lock, simply open a steam valve.

Always rinse your prepared foods in cold water and drain for a few seconds. Enough water clings to the food to combine with natural juices and cook the food in its own steam. This is waterless, nutritional cooking.
For safety, and until you get used to this new method, you should add at least 1/4" of water to the bottom of the pan.

Get a Vapor Seal
To use the steam control valve, start cooking on medium heat (never use high heat).
Then, when the valve begins to whistle, close the valve and turn the heat down to low and finish cooking. After you do this, the lid will form an airtight heat seal. Shake pan holding cover tight once during starting time, and once during second period. Continue cooking until done. Season at end of cooking.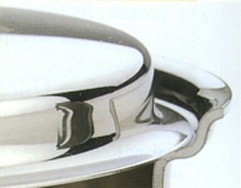 The Steam Control Lid
Don't Peek!
Resist the urge to peek. When the cover is removed during the cooking period, heat and steam are allowed to escape. This lengthens the cooking time and dries out the food.

Cooking Times
The time guide below is only a suggestion. Remember that the cooking time depends on the texture you prefer your vegetables to be at meal time. Actual cooking time will vary depending on this fact, as well as on the quantity and size being cooked. The shorter the cooking time, of course, the crisper the vegetable.

Standing times
Asparagus.......................10-12 min.

Beans-Green....................15-25 min.

Broccoli...........................10-15 min.

Brussels Sprouts.............15-20 min.

Cabbage (shredded).........8-10 min.

Cauliflower (whole).........15-20 min.

Carrots (1/2 in. cuts)......10-15 min.

Cut Corn............................8-10 min.

Corn on Cob.......................8-10 min.

Lima Beans.......................15-20 min.

Peas.................................10-15 min.

Potatoes (quartered)........15-20 min.

Potatoes (whole-sm.).......20-30 min.

Spinach..............................8-10 min.

Squash..............................10-15 min.

Turnips (whole)................15-20 min.
The construction of both the 5-ply and
7-ply sets allows you to stack cook.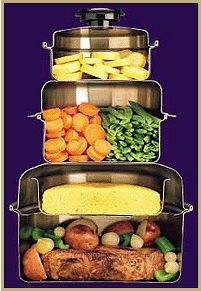 1. Preheat electric stove top burner to medium heat.
2. Coat your pot evenly with Pam or other cooking spray.
3. Lightly coat your pot with sugar.
4. Pour off excess sugar.
5. Center your pot on your preheated burner.
A poor quality pot will start melting in the spot in direct contact with the burner. As you wait for the sugar to melt across the pan, it starts to burn in the "hot spot".
Good quality cookware like Vacumatic Waterless Cookware will melt the sugar evenly with no hot spots.
1. Take any of your favorite pots and add a cup of water.
2. Add a teaspoon of baking soda.
3. Boil the water.
4. Take a spoon and taste the water.
What does it taste like? Do you still want to eat the food cooked in that pot? Surgical Stainless Steel is not porous like cast iron, aluminum, copper, and other cookware. When you do this test with Vacumatic Waterless Cookware the water tastes like it should, like soda water.
This is why surgeons use Surgical Stainless Steel for surgery.
It could be the process of your pots gradually corroding, and therefore minuscule particles of your pots being deposited in the foods that you are cooking for your family.

By using 316Ti surgical stainless steel cookware you would never have to worry about what is going into the bodies of your family, and possibly harming their health. The reason for that is that the 316 surgical stainless steel that our cookware is constructed of is corrosion resistant.
Heavy Metal Poisoning
Most cookware leaches metals from the pot into the food that is cooked in it. Cast iron, aluminum, copper, and no-stick cookware can be a problem. Cast iron pots are so porous you can usually see the grease etc. coming through the bottom of the pan. Can you imagine what is living and growing in your cast iron frying pan? Aluminum has been linked to several diseases. Non-stick cookware has formaldehyde in it.
Have you ever used glass cookware? If you have, did you ever notice that the lid is always much darker in color than the pot after years of use? Often glass cookware is used without the lid on it. What has left the glass pot and gone into your food that makes it so much lighter in color than the lid after years of use?
The heavy metals that leech from poor quality cookware into your food are not the same as the minerals that your body needs for optimum health. Your body needs iron but iron from an iron pot or frying pan only contributes to heavy metal poisoning and is not healthy for you.
Today the average North American has 500% more heavy metals in their body than 100 years ago. Reducing or eliminating heavy metals in your body can greatly improve your overall health.
Click HERE to learn about the dangers of Teflon pans
1. Place 1/2 inch of water into your saucepan.
2. For cast iron pans, aluminum pans, copper pans, stainless steel pans, and glass cookware, scrub the pan vigorously for 30 seconds using stainless steel scouring pad for cookware.
3. For non-stick pans use a plastic scouring pad.
4. Do not use any detergent.
5. Pour the water from each pan into a clear glass.
6. Do you want to drink the water?
Doing this test with Vacumatic Surgical Stainless Steel Waterless Cookware will not change the color of the water from before you put it in the pan.
Manufacturer's Warranty
Beginning immediately upon receiving your cookware, you will have a Lifetime Factory Warranty which covers workmanship, damages, and flaws in your cookware. The manufacture's customer service address is included with the warranty and placed in the carton with each set, and the actual warranty reads as follows: "This cookware and accessories are guaranteed to the original purchaser for his/her lifetime to be free from defects in materials and workmanship. Return defective piece and it will either be repaired or replaced with the same or an equivalent product and returned to you within 30 days. Handles and knobs are excluded from this warranty. Electrical components of electric skillet have a 5-year warranty.