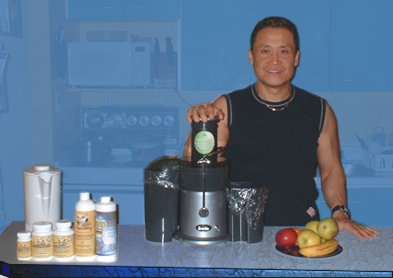 David is a Certified Fitness Consultant and Trainer , and has obtained three degrees and one diploma. His areas of study include Anatomy, Physiology, Nutrition, Massage, Shiatzu, Reflexology, and Western / Chinese Herbalism . He is a certified Naturotherapist, Iridologist and Nutritionist , with the ability to help his clients renew their vital health.
David has competed in regional power-lifting and bodybuilding and has also practiced martial arts. As an aerobic instructor, he has developed a martial-arts aerobics program called Tai Body that combines both disciplines. David teaches classes in stretching and floor exercise techniques. By focusing on the gluts, abdominals and lower back, his clients achieve optimal results with more firm and toned bodies.
David also provides holistic health seminars that are informative, practical, and educational. Topics of these seminars include: How to Handle Eating Disorders, Compulsive Eating, etc . The seminars also discuss the repercussions of these problems and the right way to achieve optimal health results. With 20 years experience in helping people with various health problems, David mentors and motivates clients to make the lifestyle changes that will enable them to become physically and mentally healthy, and thereby empowered, individuals.
Visit David's site at www.vitalhealthlife.com