Eclipse Filtered Shower System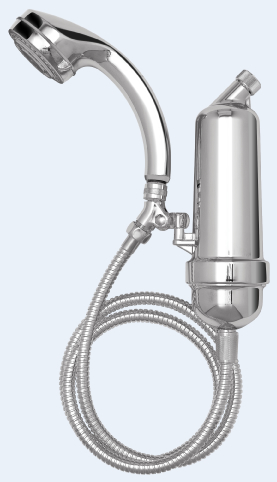 There is an increasing concern among some leading medical experts that prolonged exposure to chlorinated water while taking a shower may present a health risk. Chlorine enters the human body through dermal adsorption, and also through inhalation exposure. An Eclipse Filtered Shower System will go a long way in helping to reduce that risk by reducing the amount of chlorine that is present when you shower. The benefits of this product include the reduction of chlorine, chlorine vapors, and particles from shower water. Don't be surprised when your hair and skin begin feeling and looking healthier too. Chlorine has a drying effect and makes hair brittle. With this product chlorine is removed before it ever reaches you. The results include softer skin and hair that is more manageable. The system is chrome plated ABS and each cartridge is rated for approximately 6 to 12 months of use. The system has five adjustable settings from a soft steady stream to a more vigorous, massaging stream.
Features

• Independently tested and certified by NSF International for the reduction of chlorine and particulate matter (Class I).

• Large, 7000 gallon rated capacity.

• Leaves hair and skin feeling softer and more manageable.

• Reduces consumption of hair conditioner and body lotions.

• Hand held wand with 5 adjustable spray settings.

• Reduces soap residue build-up on glass, tile and other shower surfaces.

• Available in your choice of polished chrome, polished brass or brushed stainless.

• Estimated installation time: 10 minutes

• Limited Two Year Warranty, Lifetime Warranty option available.

• Proudly made in U.S.A.
Super easy to install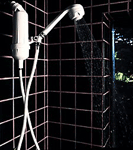 We now have the Eclipse shower filter with a 5 stage cartridge

Go HERE for details on our new Energy Stone Shower Filter