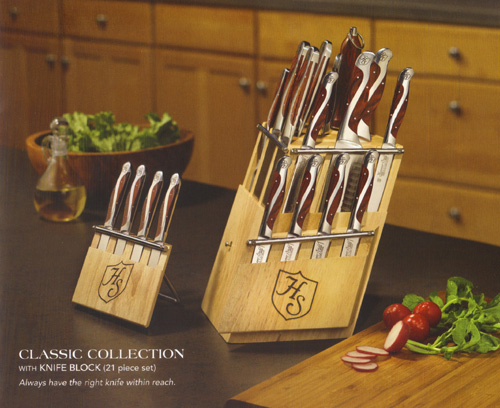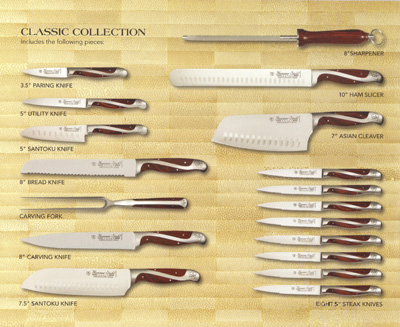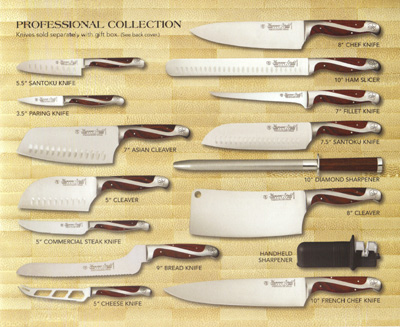 2 piece bamboo gift set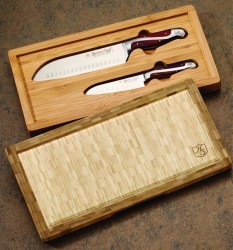 3 piece bamboo gift set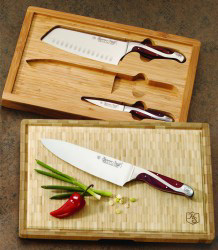 Click HERE for Warranty info.
The Top American Chefs love our new HS knives
I recently went to a convention and was very surprised at what I found out about these knives. It seems they are far better quality than I thought.
Here are some of the things I learned about them.
They now have two sizes in the fillet knives. I love to fish so I have one ordered. There is a 7" and a 9" one with a nice sheath to hold it in and attach to a belt.
The handle it actually a Pakka Rosewood. They use a hardening resin to make the handles as strong as the plastic one but still retains the beauty of Rosewood.
They are hand forged. Even the expensive Cutco knives are stamped out of metal sheets. The forging process allows for the unique quad tang. Because of the extra weight in the handle they are perfectly balanced.
They removed the serration from the steak knives. Serration, it seems, tears the food while a sharp knife simply slices clean through. Also, a serrated knife does not sharpen as nicely.
They have added a new cheese knife.
The blocks that the steak knives sit in detach from the mail block and have a built in stand. Very classy.
The Asian Chef knife is a bit wider then the standard chef knife allowing for safer chopping.
They are rated as 55 to 57 on the Rockwell hardness scale. This is the perfect hardness. Any harder they would be brittle and any softer they would not stay sharp long enough. Solingen Germany's finest blade.
They have a double lifetime warranty. Click HERE for Warranty info.
They have a custom made knife holder where the entire set slides into a thin drawer and the knives sit on top. This is ideal for people with no counter space for the block.
Famous chefs like Emeril Lagasse and Michael Symon love the knives and made comments like 'best knives they have yet seen'.