Inline and Portable Filters
Inline filter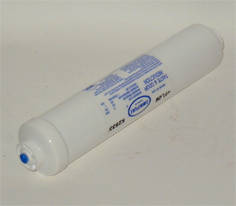 VERSATILE- designed for ice cube makers, wet bars, beverage dispensers, motor homes, recreation vehicles, campers and boats. Also serves as an effective pre-filter.
EFFECTIVE- The "In Line" removes chlorine, objectionable tastes, odors, many chemicals, rust, sand, silt and other sediment particles.
RELIABLE- Quality materials and construction resist damage from rust, corrosion and vibration.
INLINE FRIDGE FILTER :

---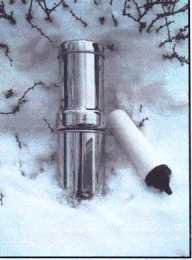 Manufactured from high-grade stainless steel

Provides up to 18 oz./.5 liter per hour

Lightweight and portable (about 3.5 in. wide 7 in. high when collapsed)

Ideal for hiking, biking or traveling home or abroad

Supplied with 4" SuperSterasyl ceramic candle with ATC media for lead reduction

Candle capacity is 400/1600 gals./L

Pure water anytime, anywhere.
For cleaner, great tasting water where and when you need it. The Portable filter is handy and easy to use. You can take it with you everywhere you go. Take it with you to work, school, restaurants, gyms and vacations.
Simply pour your tap water in...and safer, great tasting filtered water comes out in seconds.
Is also ideal for use when water may be unsafe, such as during emergencies and camping trips. (go here for more facts)
PORTABLE FILTER :

---
Gravity Water Filter
The BKI Gravity Water Filter is specifically designed for use in
situations where a reliable supply of safe drinking water is unavailable.
The BKI Gravity Water Filter is lightweight, durable and robust. It is compact, portable and simple to operate, requiring no external plumbing or power supply.

The BKI Gravity Water Filter should be fitted with Sterasyl or Super Sterasyl ceramic filter candles, which have been rigorously performance tested and verified by both in-house and independent testing laboratories.
Absolute filtration efficiency to 0.9 microns (defined as >99.99%)
For particles from 0.5 to -0.8 microns efficiency is greater than 99.9%
Reduces turbidity by an efficiency greater than 99.7%

Filters out the following parasites and pathogenic organisms:
Escherichia Coli (E. Coli)
Vibrio Cholerae (Cholera)
Salmonella Typhi (Typhoid)
Cryptosporidium
Giardia
Insecticides
Herbicides
Polyaromatic
Hydrocarbons
Free Chlorine
Click HERE for more details
---
Gravity Stainless Steel Water Filter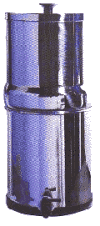 The BelKraft Gravity housing is manufactured from polished stainless steel. It comes with two Doulton ceramic water filter candles. The upper chamber is filled with water which then gravity feeds through the Doulton ceramic water filter candles into the lower chamber. An easy to use spring loaded spigot is used as the outflow tap.
3 stage Doulton water filter candles are the recommended cartridges for gravity systems.
This unit is simple to assemble and requires no specialty tools (screwdriver only). The outflow spigot and upper chamber lid knob are the only items to be installed by the purchaser. Assembly time is approximately 5 minutes. Detailed instructions are provided.
This is also an outstanding portable drinking water filtration system which is perfect for travelers, boaters, recreational vehicle owners or as an EMERGENCY WATER PURIFIER. It may be stored un-used in homes, businesses, automobiles, etc. indefinitely. It is always ready for use!
Doulton Application Guide and Contaminant Removal Chart
Super Sterasyl Ceramic Doulton Water Filter Candle
P= Purification . R= Reduction> 95% . F= Effective Filtration
Contaminants
Removal

General Description -Rated life 1000 Imperial Gallons per candle

Bacteria
P

Application: Gravity fed, this Doulton water filtration system is designed for use where either portability is required or access to a pressure fed water source is impractical.

Volume: With two Doulton ceramic water filter candles installed, this unit can produce more than ten US gallons (40 litres) of drinking water per day.

Strengths: This "Free Standing" portable gravity fed system provides 100% rejection of bacteria, cysts and effective depth filtration of particulates >.5 micron. This system also provides excellent rejection of Chlorine and VOC's. The multiple candles are easily cleaned and require no tools to service .

These statistics meet or exceed the NSF certification requirements under NSF International Standard 42 and 53.

Cysts
P
Taste
F
Odors
F
Colour
F
Chlorine
R
Herbicides
F
Pesticides
F
| | | |
| --- | --- | --- |
| Technical Details | | Telescoped for Shipping |
---
The worlds smallest water filter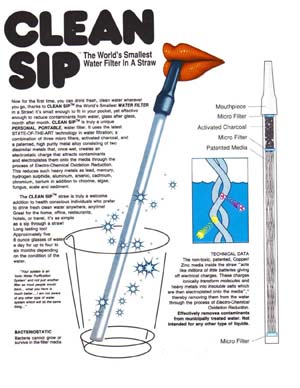 Ideal for traveling.
You can get up to 960 eight once glasses of filtered water.
Go HERE for more details.