Softener, Chlorine, Iron and Sulphur
For Whole House
When you appreciate a healthy lifestyle, you will appreciate a good quality water system.
No Salt Softener
Chlorine
Filter
Softener +
Chlorine Filter
Softener (Deluxe)

#1
No Salt Softener

No Waste,
No Salt,
No Maintenance

#2
Water Conditioner


#3
Chlorinesoft


#4
Premium Soft


Iron and Sulphur Filters (Deluxe)
Chemical Free
Iron and Sulphur Filters (standard)
Chemical Free

Softener (Standard)

Softener Cabinet




#8
Specifications


#5
Superior Softener Specifications

#6
Specifications
** not available for delivery... only sold in GTA.

Ultimate Setries Water softener. If You want the best quality water softener on the market click HERE to read about the Ultimate Series water softener.
You will not find better.

Proudly Canadian
Softener + Chlorine Combo Benefits:
Smoother skin and silkier hair
Removes chlorine and chemicals
Removes scale build up on pipes, water appliances, and water spotting.
Clothes are softer, cleaner, brighter
Dishes are cleaner with less soap.
Appliances using water such as dishwasher, clothes washer, water heaters, boilers, ice makers etc. last longer and more efficient.
No maintenance required and no salts to replace.
Hard Water

Soft water is gentle, beautifying, enriching. Soft water means soft, clean skin; soft silky, more manageable hair. Hard water prevents soap from lathering easily and makes it difficult to rinse off. It often leaves an invisible film which blocks pores, attracting and holding dirt and bacteria, causing chapping, itching, and dryness. Hair washed in hard water becomes limp and lifeless; hair coloring frequently does not penetrate evenly. Water that has been softened help eliminates or reduce these problems. It enables you to use lesser quantities of soap, shampoo, and skin care products, and increases the efficiency with which they work. Now with BelKraft water softeners you can enjoy the luxury of a softer world.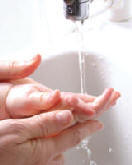 Softer Skin, Shinier Hair