Specialty Filters
BelKraft can resolve any water problem with the right type of cartridge media.
Below are just a few of the many systems we can make.
WHOLE HOUSE SPECIALTY SYSTEMS
ARSENIC FILTER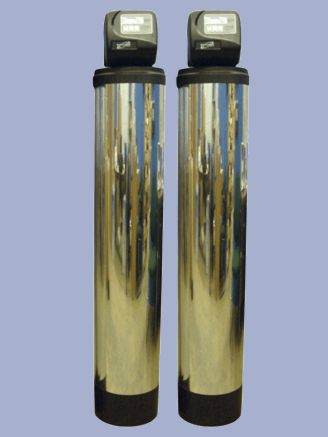 Click HERE for more details.
---
NITRATES FILTER

Click HERE for more details.

LEAD FILTER

Click HERE for more details.

TANNINS FILTER

Click HERE for more details.

URANIUM FILTER

Click HERE for more details.
---
Whole House Fluoride system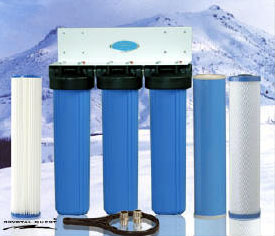 Special fluoride removing media in the second housing.
The solid carbon block for removal of all the other chemicals.
"The Great Culling: Our Water" Official Movie
Specialty Kitchen Water Purifiers
Universal Dual system for Fluoride
Counter Top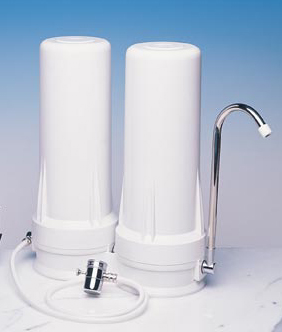 Under counter system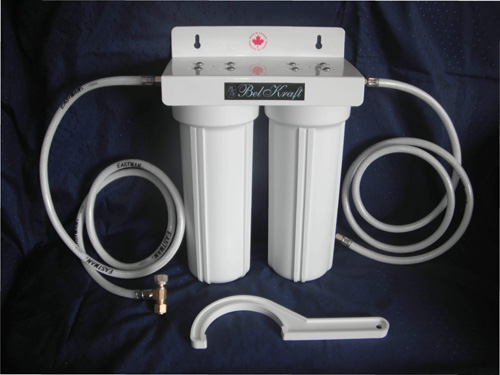 Proudly Canadian made. Leak proof and solid.
Super easy to install. Simply remove flex-hose at cold water pipe and connect the T-split. Then just screw on the hose to the end of the faucet and your done.
Frist housing has a fluoride cartridge. The second housing has the Full Spectrum 4 stage washable ceramic.
Universal Triple housing under counter system
The ultimate purifier. Four stage washable ceramic, fluoride cartridge then a carbon block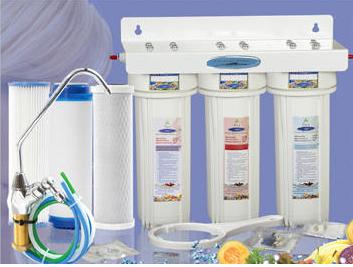 This system will give you the best possible drinking water.
Purifies down to 0.2 microns, lead and heavy metals removed, fluoride removed but the water is still alkaline balanced with the natural minerals from the water still intact.
Stainless Universal Dual system for Fluoride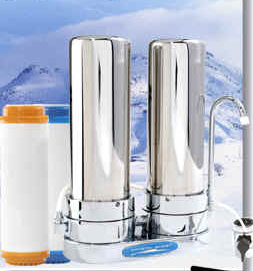 First cartridge for fluoride removal
Second cartridge a Doulton 4-stage ceramic
Available over or under the counter
Don't believe fluoride is bad for you?
Go to the Fluoride Action Network for all the facts.
---
Catalizer 11 Stage Filtration System
for fluoride and chloramines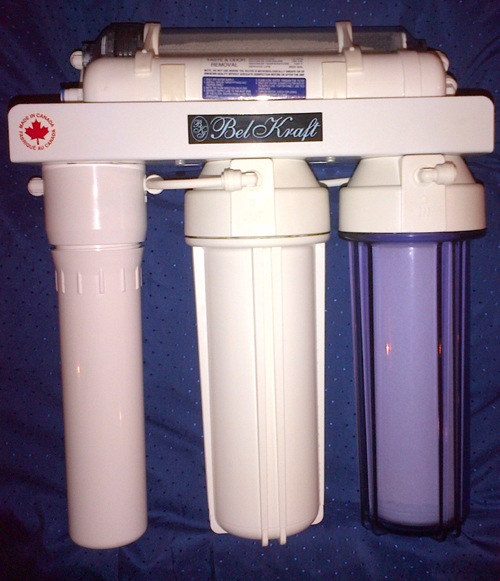 Designed to give the best possible water without needing a holding tank
Designed to address city water with fluoride and chloramines.
-First cartridge takes out the fluoride -Second cartridge is a 4 stage Full Spectrum washable ceramic for bacteria, lead, chlorine, heavy metals and chemicals. -Third cartridge is a 4 stage washable ceramic deigned to take out the chloramines and many other chemicals. -Fourth cartridge is to increase the pH -Fifth cartridge is a GAC carbon polishing post filter.
First of its kind.
---
BelKraft 2000 Dual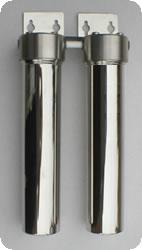 Available over or under the counter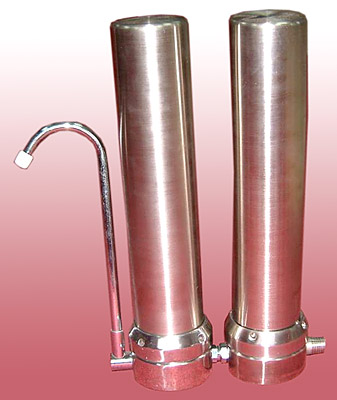 High quality surgical steel housing with a full 50 year warranty.
---
Cartridges for VOC's, Heavy Metal and Lead, Nitrates, Arsenic and Fluoride
Basic Description:

All our Cartridges are fitted with a top threaded, short mount (3/4"), designed to screw into the Slimline and BelKraft 2000 series of filters. They are engineered to work with cold, bacteria free water between 5-60 PSI, with a maximum flow rate of .6 Imp GPM.

If you have a specific water concern which is not addressed by one of these cartridges then please Email us or call our North American Technical Support Line 1-877-523-7800.

We can, and do, custom design cartridges to fit any problem!!

Part#
Description
Purpose
Life
CM1500
Carbon Matrix
High Volume Organic (VOC) Reduction
1000 Imp Gal
CR2500
Two Stage Blended Carbons and Resins
General Purpose Organic (VOC) Reduction with Heavy Metal and Lead Capability
600 Imp Gal
AR3000
Blended Resins
Standard Volume Dedicated to Arsenic Reduction
600 Imp Gal
NI3200
Blended Resins
Standard Volume Dedicated to Nitrate Reduction
600 Imp Gal
FL3500
Brimax Blended Carbons
Standard Volume Dedicated to Fluoride Reduction
600 Imp Gal
As these are not "Stand Alone" Cartridges performance specifications are not given individually. For System Performance Specifications please refer to the "System" that uses these cartridges.
---
Six Stage Natural alkalizer/ionizer, mineralizer, and oxidation cartridge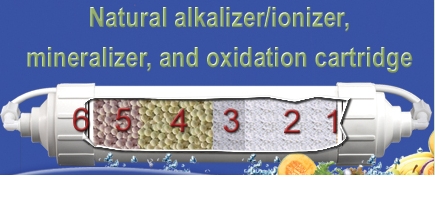 Add this to any filtration system. Make your RO water ten times less acidic.
Click HERE for all the details on this amazing cartridge.
If you are still not convinced you need to remove fluoride from your drinking water watch this video from Dr. Mercola.
Dr. Hans Moolenburgh - Fluoride Fighter of the Netherlands
For more info on specialty filters call 1-877-523-7800 or write to info@belkraft.com