Here are some great images of installed under counter units, dirty cartridges and different types of hook-ups
It's great to see how well we can match up the filter faucet.
Here you can see the dirty tube where the water goes in and the clear tube where the purified water comes out.
Universal hooked up to our chiller
Our systems take up no space under the counter, but if you are getting our 6 Stage Mineralizing RO it can also be installed in the basement under where the sink is.
Hard to imagine there are two purifiers behind these drain pipes. Below is a Universal with a T-split going to the fridge.
When people see their dirty cartridges they are grateful to see what they did not have to consume.
When you buy from a competitor, you are often getting an inferior product made in China and they do not have the same warranty or quality service we offer.
Where can you find a water purifier with a 50 year warranty?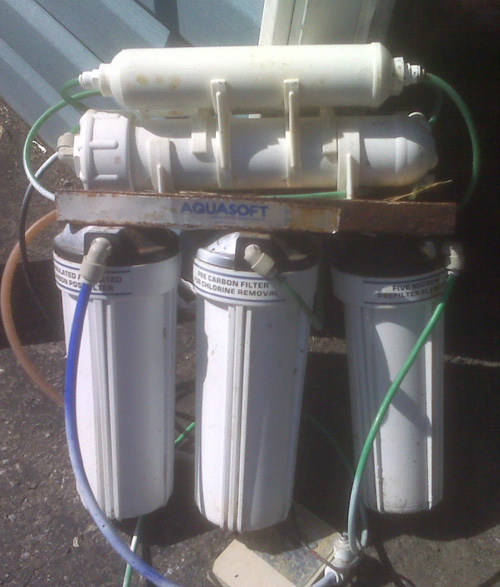 This unit did many thousands of dollars in water damage.
Buy a quality made in Canada product - Your family will be grateful
We have happy clients in trailers and in large homes.
The family in this home in Ottawa has water pipes coming in from the street that are so badly corroded that his ceramic clogged every two weeks. We had to install a full house system.