Whole House Systems

Go HERE To Find Out The Benefits of a Whole House Water Purification Systems

Big Blue Whole House Filter (Filter all your water down to 0.5 microns)

BelKraft 6000 Ceramic Filter Module (99.99% Bacteria, E.Coli, Cholera, Cryptosporidium, Giardia, Shigella, Typhoid, etc.)

BelKraft NO SALT Water Softener (A natural way to soften water without all the salt)

Standard Iron Filter (The most economical way to remove iron from your water )

Chemical-Free Iron and Sulphur Filters (20 year warranty, No chemicals to buy, Fully Automatic)

Water Conditioners, Chlorine Filter and Softeners (Up to 20 year warranty)

Anti-Scale System for up to 4 gpm (Provides protection from scale formation on internal and external plumbing surfaces.

Whole House Reverse Osmosis Systems (Pure water for the entire home up to 6600 gallons per day)

Ultraviolet Ultimate Series (99.9999% destruction of bacteria, virus and protozoan cysts (Giardia Lamblia and Cryptosporidium)

Water Testing Kits - Click HERE to select the 'Do it Yourself' water testing kit for City water or well water.

Do it yourself installation kits - Click HERE to see our selection of Twistloc fitting for easy system installations.

What we need to know to quote you a solution to your well water
Well water inquiries:
Before contacting us for suggestions as to which system you need, it would help us if you could supply us with some information.
Do you have a water analysis?
What is the horsepower of your pump?
Is it a surface or submersible pump?
How many people in your household?
What is the thickness of your water pipes?
Click HERE for more info about what we need to know.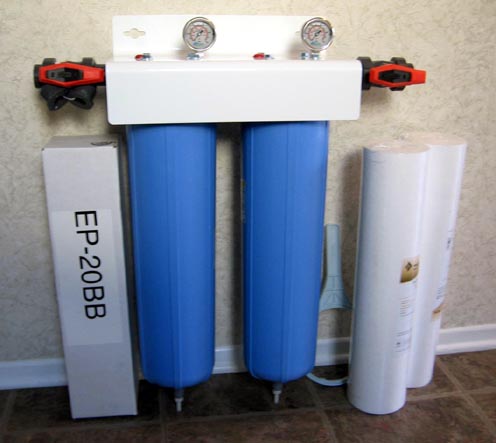 HAVE A BATH OR SHOWER IN SOFTER, CLEANER WATER
20 in. jumbo whole house filter with 0.5 micron nominal cyst, lead, chlorine and VOC reduction carbon block cartridge.
Food Grade Polypropylene Housing

Including mounting bracket with screws and a full spanner wrench


1 inch ports, pressure vent


Dimensions: H 24 in. W 7 in.


Cartridge capacity: 150,000 gallons, 5 GPM flow rate @ 60 PSI
(See details on this amazing whole house system)

Click HERE to read about our new 'Do it yourself' installation kit
Click HERE for info on cartridge replacements
---
BelKraft Whole House System for Fluoride, Arsenic or Nitrates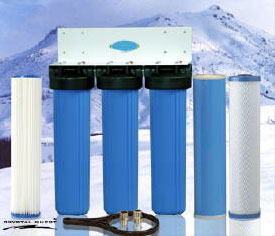 Cartridge one is the pre-filter
Cartridge two is the specialty media
Cartridge three is a 20" 5 micron carbon block
Canadian made
Click HERE for more details
---
BelKraft 6000 Ceramic Filter Module

The BelKraft 6000 Whole House ceramic filter module processes up to 520 gal of water per hour, making it an ideal whole-house filter. Compatible with Big Blue housings, it is available as a complete filter housing package or a separate module for retrofit upgrade.
Holds six washable sub-micron silver impregnated porcelain ceramics.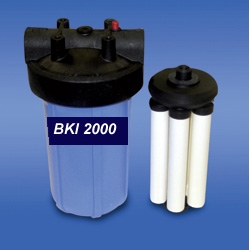 BKI 6000 multi candle filter module typical applications:
Whole house filtration where finest quality drinking water is desired

Homes drawing water from lakes, streams or microbiologically contaminated wells

Local and national parks, highway rest stops, etc. ensuring EPA cyst removal compliance for public drinking water

Small footprint for parallel installation for large volume safe drinking water

Bottled water pre or final filtration

RO post filtration ensuring cysts and bacteria removal

Beer and wine clarification or where high turbidity reduction is required

Emergency preparedness etc.
Go HERE for more details.
BELKRAFT 6000 WHOLE HOUSE UNIT :

---
Standard Iron Reduction filter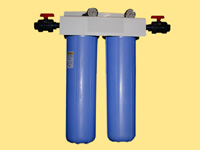 Advantages:
Fraction of the cost of competitive iron removal systems
Easy to replace cartridge - no media regeneration necessary!
NO backwashing required!
Effective over a wide pH range
Also removes manganese and hydrogen sulfide (rotten egg smell)
Does not add harmful bi-products to your drinking water
Prevents staining of laundry/plumbing system including the shower and tub
Relatively long filter life - cost effective long-term operation
Simple installation
Small size (only about 20" by 24") - save valuable floor space!
Will not harm your septic system
Radial flow design for high flow rates and extremely low pressure drop
Click HERE for more details

---
BelKraft NO SALT Water Softener
No scale buildup on fixtures and appliances
Scale prevention
Essential minerals are no longer removed
from the water
Clothes are softer, cleaner, brighter
Dishes are cleaner with less soap and no hard water spotting
Appliances using water such as dishwasher, clothes washer, water heaters, ice makers etc. last longer and are more efficient.
7 Year Warranty

Click HERE for more details

BelKraft NO SALT Water Softener :

Salt Free Water Softeners use a revolutionary filter media from Germany that chemically alters the compounds that create water hardness (calcium & magnesium) making the water look, feel, and act like conventionally softened water.

Salt free water softeners will greatly reduce hard water scale formation on appliances and will reduce the amount of soap needed for showering and doing laundry.

Best of all, salt free water softeners don't require any salt. No salt to carry from the store, and no sodium discharged to the environment. Salt free water softeners are a virtually maintenance free alternative to conventional softening.
---
Anti-Scale System for up to 4 gpm (15 lpm)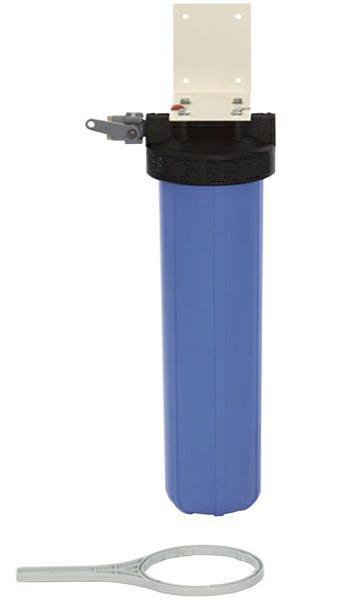 Provides protection from scale formation on internal and external plumbing surfaces. The Anti-Scale system is a single cartridge-based system that may be installed on a cold water line prior to a water-using device (water heater, hot-beverage system, appliance, steamer, etc.) that requires protection from the ill effects of hard water.
Available in single or dual housing. (The dual housing has a 20" carbon block cartridge.)
Click HERE for more details
VIEW THE YouTube VIDEO FOR MORE DETAILS
---
The 3 in 1 Water System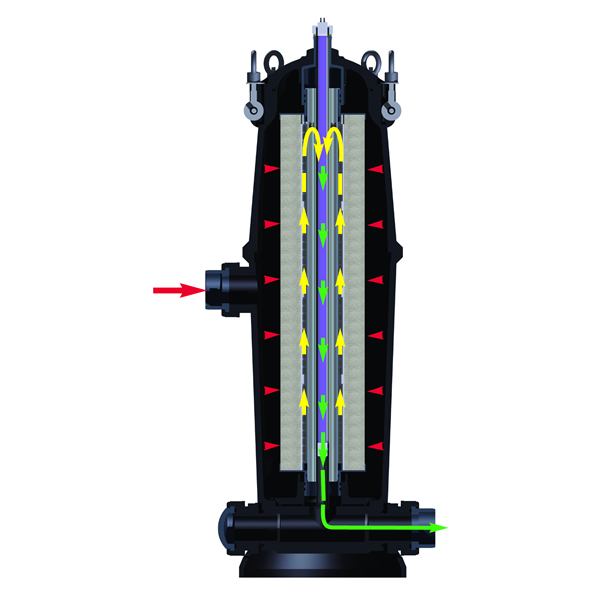 The 3-in-1 systems provides superior filtration and purification performance by combining three technologies, pleated cartridges, activated carbon, and ultra violet disinfection, into a single affordable package.
Click HERE for all the details
---
BelKraft Jumbo Whole House Filter
Low cost alternative to stainless steel filtration systems

Full line of filter cartridges available, from sediment, pleated and carbon filtration

150 GPM maximum flow rate (with pleated pre-filter)

Unique design allows two different outlets on opposite sides of system to allow greater flexibility with piping configurations.

Double o-ring seal for superior filter seating

NSF Certified to Standard 61

Click HERE to see all the details on this amazing whole house system)

Comes complete with an Activated Carbon Cartridge

Ideal for whole house filtration to reduce chlorine, taste, odors and sediment

Flow Rate & Capacity 15 GPM - 140,000 Gals.

Chlorine Reduction 90%
---
2200, 4400 or 6600 GPD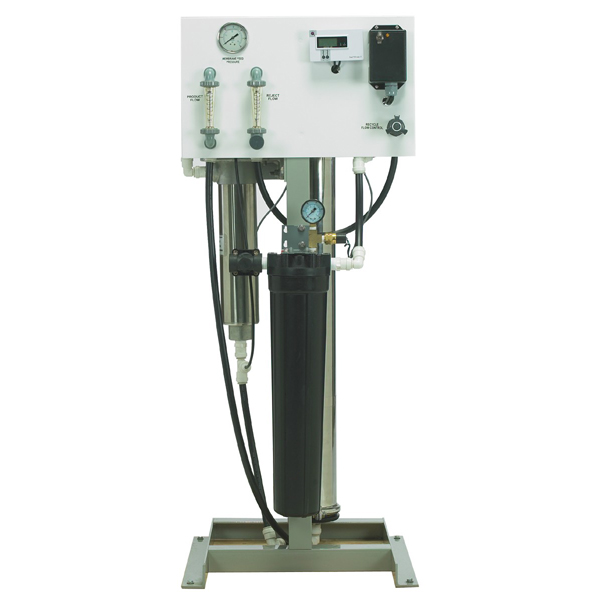 Features;
Three models to chose from that produce 2200, 4400, or 6600 GPD
Inlet solenoid valve
Prefilter pressure gauge
20" prefilter
Multistage centrifugal pump
Low-pressure protection with microprocessor auto reset
Stainless steel pressure vessels
Product flow meter
Reject flow meter
Concentrate needle valve
Feed water and product water TDS monitor
Click HERE for more details
---
Chemical-Free Iron and Sulphur Filters
SYSTEM BENEFITS:

Finally, an iron and sulphur Eater Filter that eliminates iron, iron stains and sulphur - often referred to as that "rotten egg smell".
No chemicals, safe for septic beds, inexpensive operation, simple design. It uses air with specialty iron/sulphur removal media to make water iron and sulphur free. The off-air tank filter eliminates water pipe hammering and sputter in faucets.
Allows air contact time with water for better results.

Solid State design, only one moving part with water, and super quiet operation.

FEATURES:

No chemicals to buy
Fully Automatic
Chrome Jacket
Bypass valve
Includes air injection system
Self cleaning backwash
Flows to 20 g.p.m.
Hydrogen Sulfide to 8 p.p.m.
Up to 20 p.p.m of Iron Removal
20 yr. Warranty

Click HERE to see all our other softeners

Ultraviolet Ultimate Series
---
All of our systems come with simple installation instructions. We still recommend that you call a licensed plumber to hook up your filter. The average cost for installation is $200.00.
Doing it yourself could cause future problems.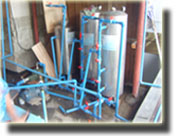 It's not worth it!
If you still want to attempt installing a system yourself we recommend the Twistloc connectors.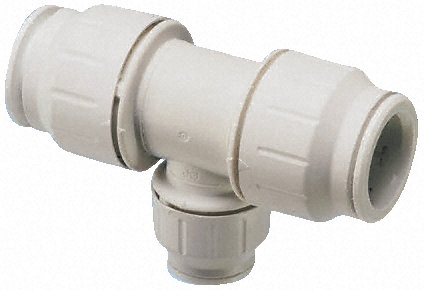 Download the Twistloc catalogue HERE
Click HERE to read about our new 'Do it yourself' installation kit.
All the basic connectors needed for an installation with a by-pass.
Are you going to trust your well water?

The highest risk water source today is ground water. The problem is that ground water can be so easily contaminated and the contaminations remain in the water because there is limited flow in the aquifers. The most common sources of contaminants nationwide are underground storage tanks (USTs), septic systems, pesticides and nitrates.
According to a recent study conducted by the Environmental Protection Agency (EPA) , the largest risks are from USTs commonly used by service stations, refineries and other industrial sites. These tanks normally contain hazardous materials like industrial waste or volatile organic compounds (VOCs) which are extremely hazardous for human consumption. As a gauge, one gallon of gasoline (regarded as a VOC) will render one million gallons of water unfit to drink.
If you own a well and would like information on disinfection procedures click HERE
For more information on well water CLICK HERE
For info on our Chlorine injector click HERE
Water Testing Kits - Click HERE to select the 'Do it Yourself' water testing kit for City water or well water.